A Joint Health Effort In Danville VA

It's official! The Doctors of Cornerstone Complete Care and Hill Chiropractic are proud to announce the formation of an entirely new integrative medical clinic in Danville VA… CoreMedX, Inc.
Cornerstone Complete Care (a fixture in Danville for the past 29 years) and Hill Chiropractic (founded by Dr. Isaac Hill 8 years ago) will be combining services in their brand new clinic which will be located at 441 Piney Forest Rd E This exciting new endeavor will be in the same building but next door to the current Cornerstone location.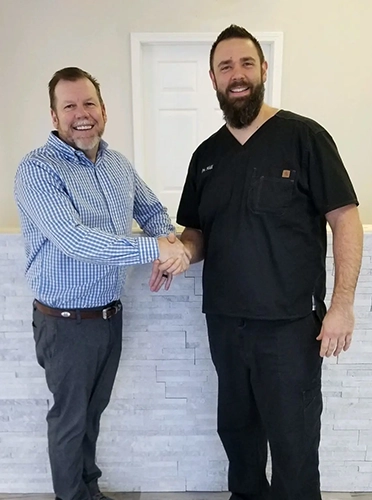 CoreMedX will offer a host of new physical medicine services in the new 6400 sq ft facility which will be exactly double the size of their previous clinic. Not only are the two practices joining physical locations but the doctors are combining their individual philosophical and treatment rationale to create new proprietary treatment programs for some of the toughest health problems facing patients today.
---
Integrative Treatments in Danville VA
CoreMedX is proud to introduce the following care programs for the treatment of degenerative knee, hip, shoulders, and backs:
Our new Joint-Saving StemMedX– Regenerative Cell Therapy Program combines PRP, Ozone, and HUCT Cell Injections with Physical Medicine Treatments including the Back-on-Trac and Knee-on-Trac Systems. Patients with degenerative and arthritic conditions of the knees, hips, shoulders, and back are all candidates for this approach.
20 Million Americans suffer from debilitating neuropathy symptoms. Our newly developed NerveMedX– Neuropathy Treatment Program is giving patients new hope and one portion of the program has a 97% effective rate backed up by over 20 Peer-reviewed medical research studies.
The number of patients suffering from Bulging, Degenerative, and Herniated Discs is reaching epidemic proportions. The DiscMedX– Disc Treatment Program includes non-surgical spinal decompression, therapeutic exercise, balance trac testing, and Matrix electroanalgesia therapy and is backed by clinical studies showing an 86-91% effective rate.
And finally the answer to stubborn weight loss issues, The CoreMedX Trust-Your-Gut Weight-Loss Program is a new "clinical research-driven" approach to restoring gut health (the key to effective weight loss) and shedding excess and unwanted pounds.
If you have been in for a visit lately you have probably noticed our reception area has shrunk as construction continues. Thank you for being patient and for excusing the noise, dust, and inconvenience as we prepare the new office.
A soft opening is slated for the second week of February with some services beginning right away, including the "Trust Your Gut Weight Loss Program" to be offered in the new CoreMedX spaces. The merger will then be completed with the official Grand Opening which is scheduled for March 1st. Please feel free to contact either office should you have any questions as we go through this merger.
Joshua Pidcoe, PA will continue to provide Allopathic, Family, and Regenerative Medicine at the new office further expanding the range of services available at CoreMedX.
We hope you share in our excitement as Cornerstone Complete Care and Hill Chiropractic push the boundaries with this historic "Joint Effort" to bring cutting edge healthcare solutions to Southside Virginia!
-Dr. Brian Robbins, DC, CCSP, ACRB1
OFFICE HOURS
---
Monday
7:30am - 5:30pm
---
Tuesday
7:30am - 5:30pm
---
Wednesday
7:30am - 5:30pm
---
Thursday
7:30am - 5:30pm
---
Friday
Closed
---
Saturday & Sunday
Closed